BODRUM TO FETHIYE KABINEN-CHARTER
Bodrum To Fethiye Kabinen-Charter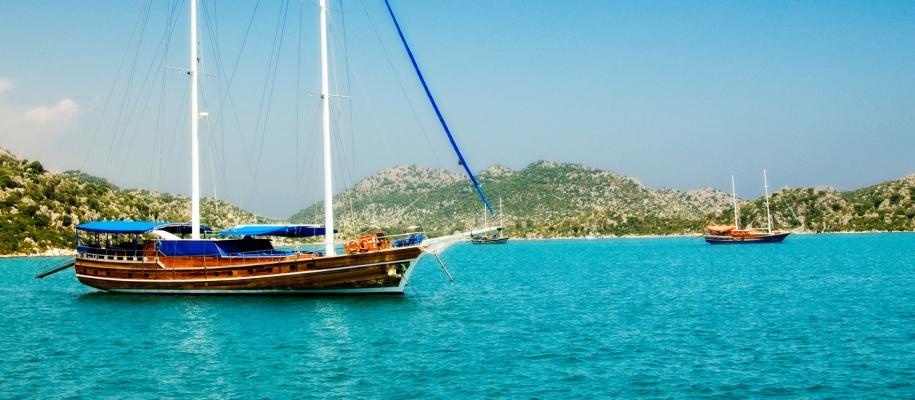 Übersicht
Reiseroute
Gallerie
Hinweise
Anfrage
Abreise Tage :

Samstag




Länge :

8 Days 7 Nights

Yacht-Klasse :

Standard

Abreise in :

Bodrum

Mahlzeiten :

Vollpension Standard-Menü

Getränke :

nicht inklusive

Kabinentyp:

Geteilte Kabine

Ort :

Türkei

Besuchte Orte :
Bodrum to Fethiye Kabinen-Charter preise
Reisedauer
EUR
TRY
USD
AUD
GBP

1 May 2021

-

30 September 2021

€ 699
₺ 14385
$ 762
AUD 1076
£ 622
Bodrum to Fethiye Kabinen-Charter hot deals
| | | | | | |
| --- | --- | --- | --- | --- | --- |
| Dates Available | Pax 1 - 5 | Pax 6 - 1 | Pax 11 - 16 | Pax 17 + | Expires |
Hinweise
Please find more details and information on your cabin charter below.YACHT INFORMATION- A standard gulet is provided for this cabin charter. Some may be equipped with air conditioning, however, this cruise is None-AC cruise.- Yachts are determined on your arrival. Gulet cannot be predetermined or guaranteed at the time of booking.- All our yachts have yacht insurance. We advise all travellers to take out their own individual travel insurance.INCLUSIONS & EXCLUSIONS- Drinking water is included on this cruise.- Meals are included for the duration of your cruise. This includes breakfast, lunch, dinner, afternoon tea and snacks. Drinks are not provided in your cabin charter package. On this cabin charter, you cant not bring your own drinks. All drinks are sold onboard. A bar tab is set up for the duration of the week. All bar tabs are paid on the conclusion of your cruise by cash only.- Port and marina fees, taxes and fuel are all included in your cabin charter package price.- Linen is provided on this cabin charter. Please note that you must bring along your own bath/beach towel. No towels are provided.- Entrance fees and optional activities are not included in the cabin charter package price (Water sports, Dalyan tour, Land transfers etc).ACCOMMODATION- All cabins have private bathrooms & and shower.- Allocation of cabins is done on-site. All gulets and cabin layouts are different, cabins are not predetermined.- On these cruises, you may be roomed in a twin, double, triple or quad cabin depending on your group breakdown. If you are a couple please notify beforehand & we will arrange a double private cabin for couples. Individuals are all shared in a twin, triple room mix gender (we will always try to match same-gender first).- For individual travellers who do not want to be assigned with another passenger, single supplement cabins are available with extra cost. All cabins have private bathrooms with toilet and showerRESTRICTIONS- This cruise is only allowed for ages between 18 to 39.- Bringing your own drinks is not allowed on this cruise.- Your cabin charter is a non-guided tour. There is no local guide on board providing information on the sites and locations.- All efforts will be made to follow this itinerary, however, in cases of poor weather and/or sea conditions, this schedule may change. This could include altered daily plans and overnight stops. In these situations all efforts will be made to consult customers on alternative options, no money will be refunded.MEETING POINTSDeparting from Fethiye: There are no Hotel pick-ups available. You will need to meet in Our Office at 14.00 PM.Fethiye Meeting Point: please visit for our office location details https://www.faroutcruises.com/contactDeparting from Bodrum: There are no Hotel pick-ups available. You will need to meet in at Meeting point below at 14.00 PMBodrum Meeting point: is Kumbahce Café (Kumbahce Belediye Café), which is located at Halikarnas Iskele (Halikarnas port). Website: http://www.bodrumbelediyeas.com.tr/kumbahce-kafeterya.htmlGoogle map: https://www.google.com/maps/place/Kumbah%C3%A7e+Belediye+Kafe/@37.0304363,27.4377118,19.04z/data=!4m8!1m2!2m1!1skumbah%C3%A7e+cafe,+bodrum!3m4!1s0x0:0x751910d4ff28eee2!8m2!3d37.0303343!4d27.4382063
Tag 2
Black Islands to Palamutbuku
Tag 4
Serce or Boizkalle destinaaton
Anfrage
Bitte kontaktieren Sie uns für weitere Unterstützung.